Google My Business, Google search, and maps changes all the time. We here at One Hand Off spend a lot of time keeping up with the latest and I have a few suggestions for you that should help maintain or improve your google results.
That's critical because Google is still by far your best source of traffic. My suggestions:
Create posts on Google My Business.
This is not the same as posting to Google+. I know it's confusing, but google. Google released a new feature late last year to allow businesses to post stuff about themselves. The posts appear in google search and google maps results. Here's an example:
The experts at Search Engine Land have shown that regular posting can have a good impact on your search result placement.
It's easy and it's free so why not?
How To Do It
You have two options: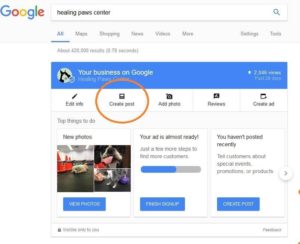 Search for your business while logged in to your business' Google account. In most areas you will be presented with a Google My Business panel in the search results like so:
Then click the "Create post" link and follow the on-screen steps.
Or, you can log in to your Google My Business account directly using https://business.google.com/ or use the Google My Business app for iOS or Android.
Learn More
Megan Pritts over at LunaMetrics wrote a great article with much more detail on creating great posts and some things to avoid. Definitely click over there to read more.
Good Housekeeping To Drive Engagement and Traffic
Google continues to invest in new features within the Google My Business tool. But obviously to get the benefit each business must choose to implement them effectively. Here is a new one and an old one.
Feature: Action URLs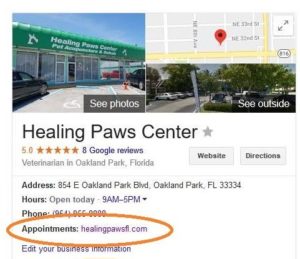 In your standard GMB listing you can of course add your web site address. Did you know you can add an "action URL" for things like appointments, reservations, and such?
These links make it easier for customers to take action directly from Google Search or Maps.
In Google My Business, you can add your own URLs for specific actions, including:
Booking an appointment
Placing an order
Reserving a table
Searching for items
Viewing the menu
How To Do It
The step-by-step instructions are at https://support.google.com/business/answer/6218037
Feature: Questions and Answers
This has been around a while on maps on mobile devices, but just recently has started to roll out on the web search as well.
Unfortunately we still see too many businesses that do not manage it actively.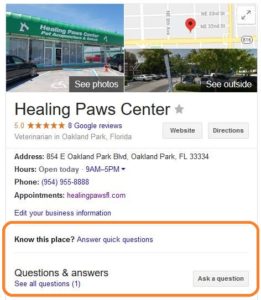 Every business nowadays invests time, effort, and money to get engagement from their customers. So it does not make sense to ignore a free and ready source of engagement: questions from existing or potential customers on google.
The downside is that there is no notification system in place so you'll need to check the listing regularly (daily).
How To Use It
It's easy to use. Go to your search listing or maps listing and you can ask and/or answer questions.

A great way to leverage it is to preemptively enter some frequently-asked questions. If you get the same questions over and over, why not ask and answer them yourself?
Mike Blumenthal has a nice post with more details, if you're interested.